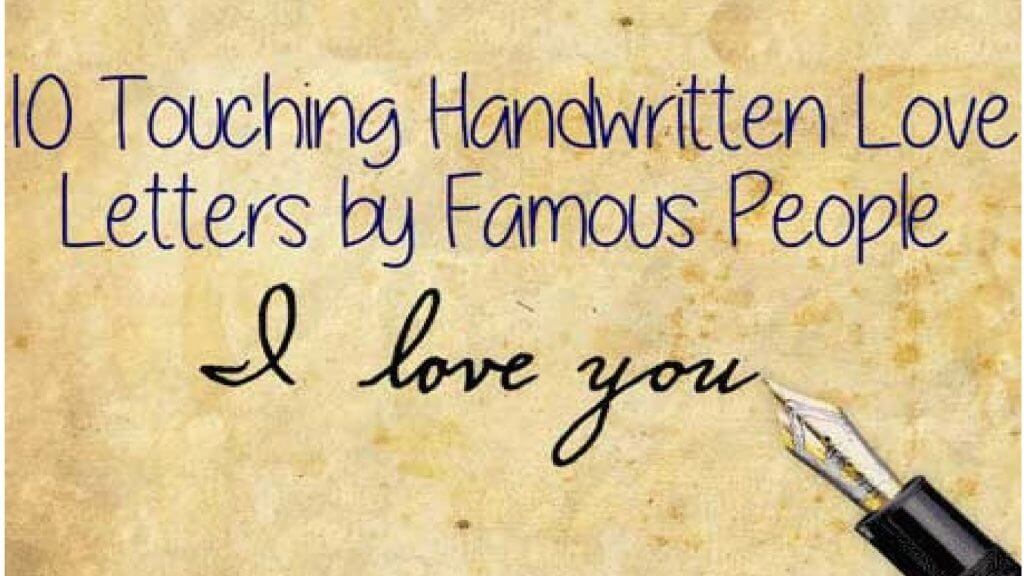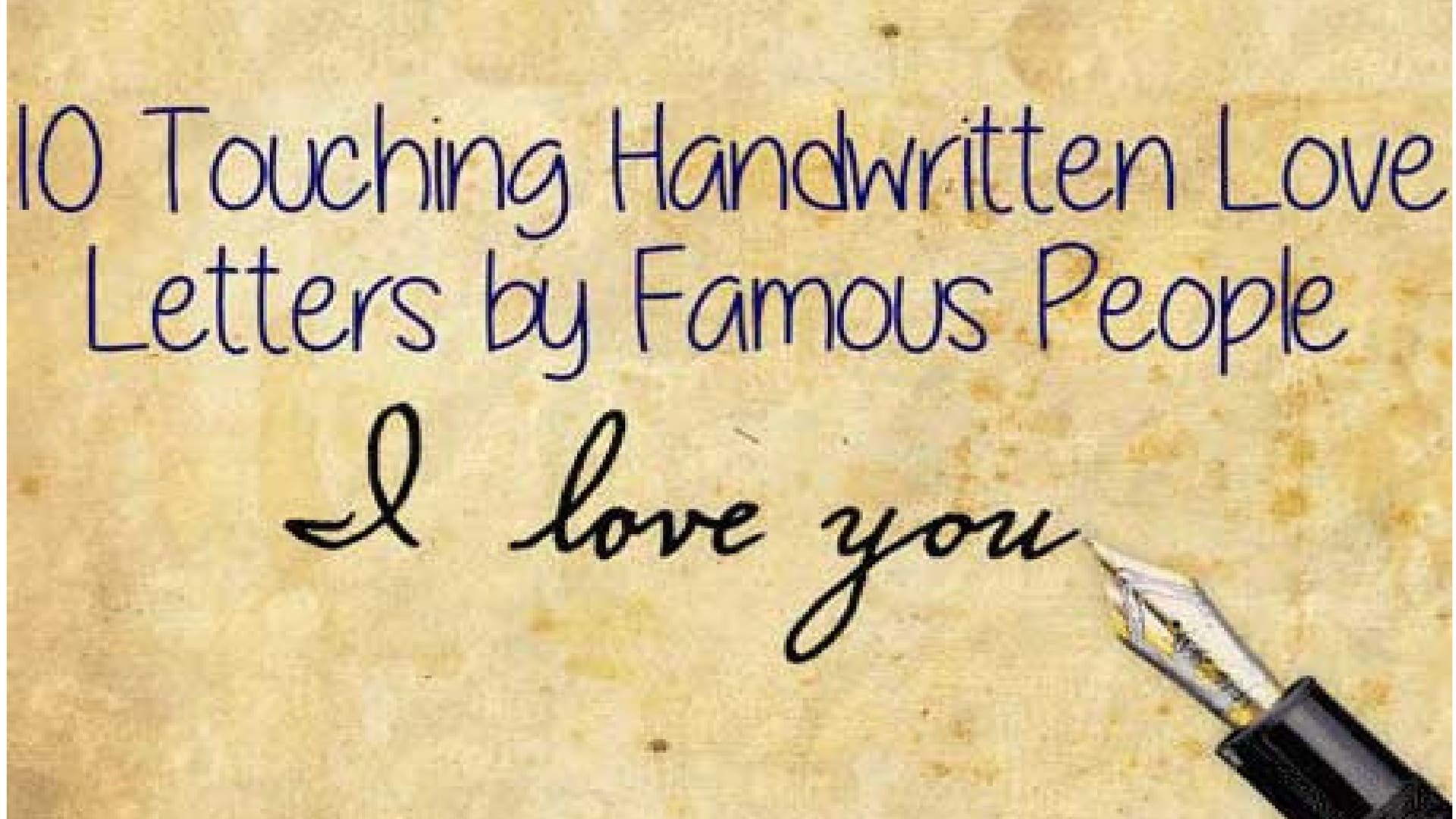 Nothing quite says I love you like a hand crafted letter declaring your love, straight from the heart. With the rise of technology, proclaiming your love in the form of a love letter is now somewhat deemed old fashioned. Besotted lovers now announce their romance via Social Media and now, with the convenience of mobile phones, a simple text message stating "I love you" before bed or in the morning seems to make more sense than the preposterous idea of sending a letter in the mail. At Pens Etc, we feel there is still a place in the modern world for romantic elegantly crafted love letters and so we've scoured the internet for what we feel are the ten most touching and beautiful handwritten love letters by both celebrities and famous people.
Ludwig van Beethoven to his "Immortal Beloved"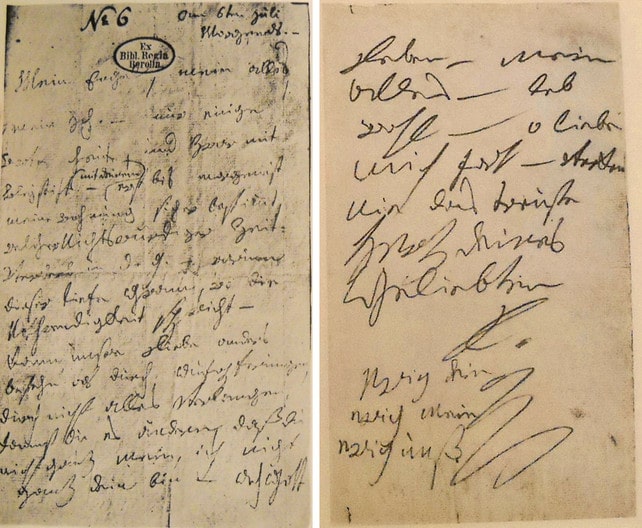 Though still in bed, my thoughts go out to you, my Immortal Beloved, Be calm — love me — today — yesterday — what tearful longings for you — you — you — my life — my all — farewell. Oh continue to love me — never misjudge the most faithful heart of your beloved. Ever thine. Ever mine. Ever ours.
Elizabeth Barrett to Richard Burton
I wish I could tell you of my love for you, of my fear, my pure animal pleasure of you, my jealousy, my anger at you.
Most of all my love for you and whatever love you can dole out to me. I wish I could write about it but I can only boil and bubble inside and hope you understand how I really feel.
Winston Churchill to Clementine Churchill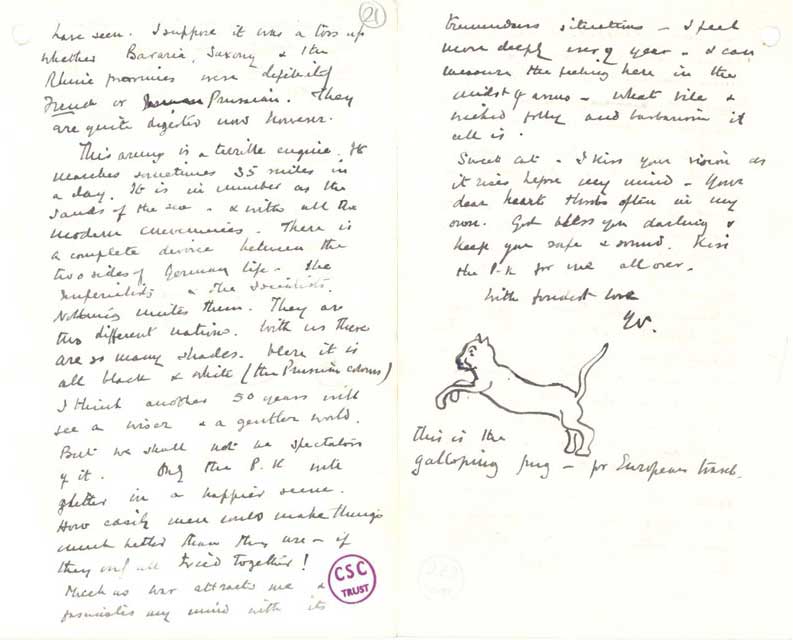 Wurzburg My darling, We have been out all day watching these great manoeuvres. . . . I have a very nice horse from the Emperor's stable, & am able to ride about wherever I chose with a suitable retinue. As I am supposed to be an 'Excellency' I get a vy good place. Freddie on the other hand is ill-used. These people are so amazingly routinière that anything the least out of the ordinary – anything they have not considered officially & for months—upsets them dreadfully….I saw the Emperor today & had a few mintues' talk with him. He is vy sallow—but otherwise looks quite well. . . . . We have had a banquet tonight at the Bavarian palace. A crowd of princes & princelets & the foreign officers of various countries. It began at 6 p.m. & was extremely dull. . . .
This army is a terrible engine. It marches sometimes 35 miles in a day. It is in number as the sands of the sea—& with all the modern conveniences. There is a complete divorce between the two sides of German life—the Imperialists & Socialist. Nothing unites them. They are two different nations. With us there are so many shades. Here it is all black & white (the Prussian colours). I think another 50 years will see a wiser & gentler world. But we shall not be spectators of it. Only the P.K. will glitter in a happier scene. How easily men could make things much better than they are—if only all tried together! Much as was attracts me & fascinates my mind with its tremendous situation—I feel more deeply every year—& can measure the feeling here in the midst of arms—what vile & wicked folly & barbarism it all is.
Sweet cat—I kiss your vision as it rises before my mind. Your dear heart throbs often in my own. God bless you darling keep you safe & sound. Kiss the P.K. for me all over With fondest love W.
Johnny Cash to June Carter Cash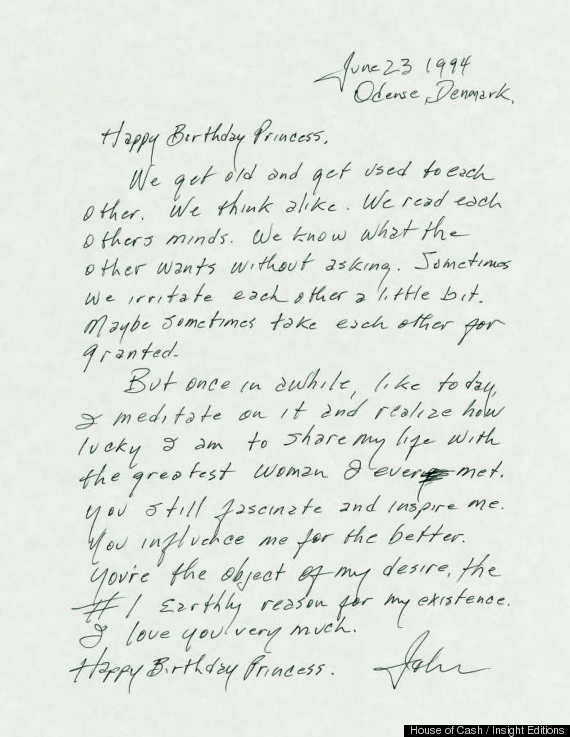 Happy Birthday Princess
We get old and get used to each other. We think alike. We read each other's minds. We know what the other one wants without asking. Sometimes we irritate each other a little bit. Maybe sometimes take each other for granted. But once in a while, like today, I meditate on it and realize how lucky I am to share my life with the greatest woman I ever met. You still fascinate and inspire me. You influence me for the better. You're the object of my desire, the #1 earthly reason for my existence. I love you very much.
John
Michael Jordan to his Then-Girlfriend "Laquette"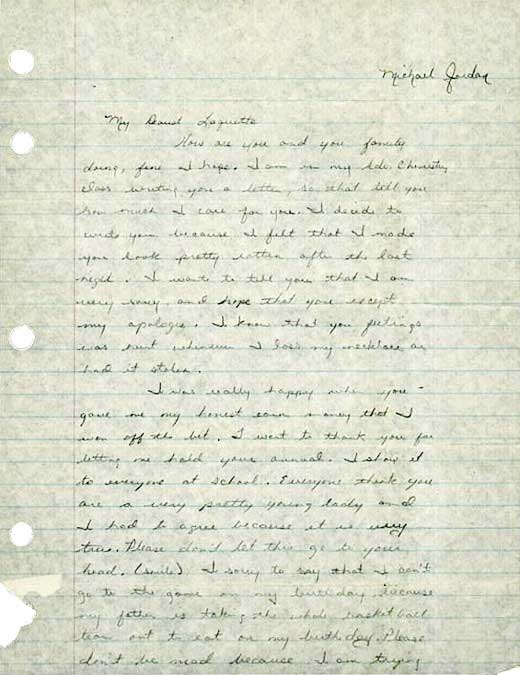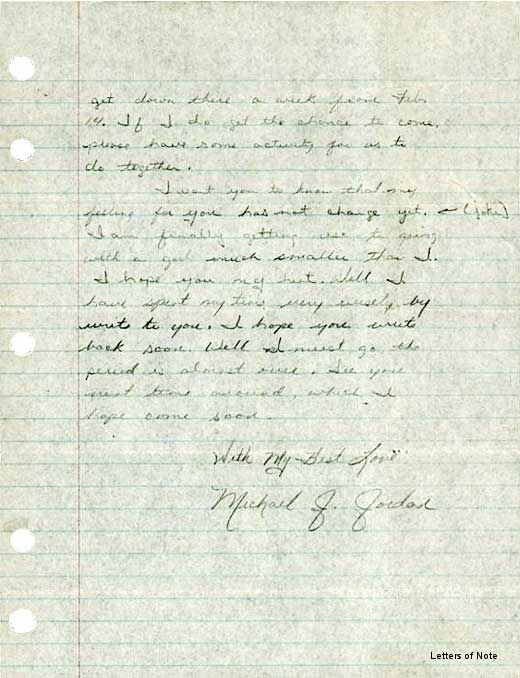 My Dearest Laquette
How are you and your family doing, fine I hope. I am in my Adv. Chemistry class writing you a letter, so that tell you how much I care for you. I'd decide to write you because I felt that I made you look pretty rotten after the last night. I want to tell you that I am sorry, and hope that you except my apologie. I know that you feelings was hurt whenever I loss my necklace or had it stolen.
I was really happy when you gave me my honest coin money that I won off the bet. I want to thank you for letting me hold your annual. We show it to everyone at school. Everyone think you are a very pretty young lady and I had to agree because it is very true. Please don't let this go to your head. (smile) I sorry to say that I can't go to the game on my birthday because my father is taking the whole basketball team out to eat on my birthday. Please don't be mad because I am trying get down there a week from Feb. 14. If I do get the chance to come please have some activity for us to do together.
I want you to know that my feeling for you has not change yet. ← (joke) I'm finally getting use to going with a girl much smaller than I. I hope you my hint. Well I have spent my time very wisely by write to you. I hope you write back soon. Well I must go, the period is almost over. See you next time around, which I hope comes soon.
With my Best Love
Michael J. Jordan
Jimi Hendix to an Unknown Woman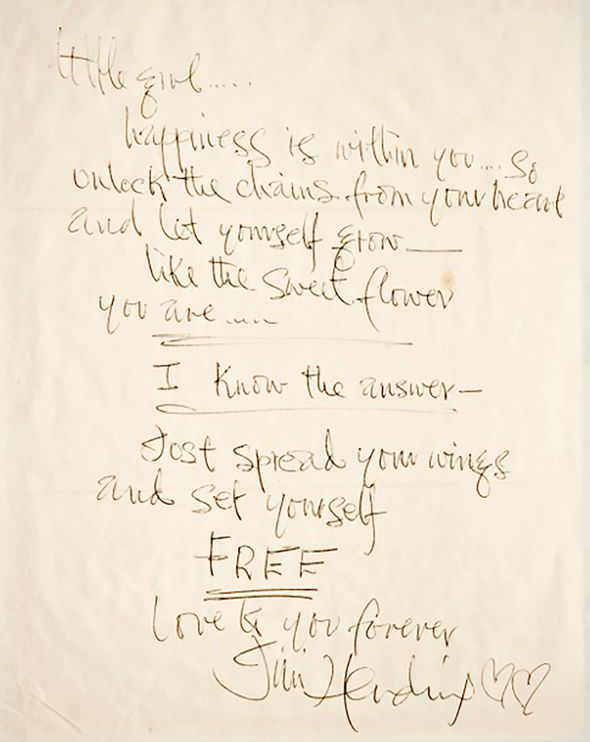 little girl… Happiness is within you…. So unlock the chains from your heart and let yourself grow like the sweet flower you are… I know the answer — Just spread your wings and set yourself FREE
Henry VIII to Anne Boleyn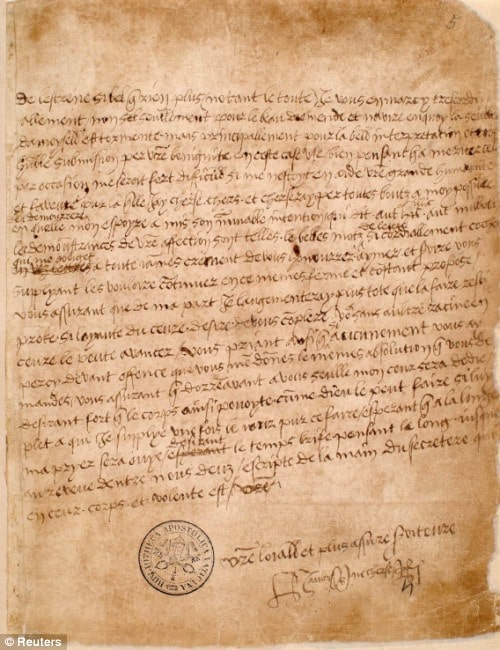 The demonstrations of your affection are such, and the beautiful words of your letter are so cordially phrased, that they really oblige me to honour, love, and serve you for ever….
For my part, I will out-do you, if this be possible, rather than reciprocate, in loyalty of heart and my desire to please you.
Beseeching you also that if I have in any way offended you, you will give me the same absolution for which you ask, assuring you that henceforth my heart will be dedicated to you alone, and wishing greatly that my body was so too.
H seeks A.B, No Other Rex
Oscar Wilde to Lord Alfred Douglas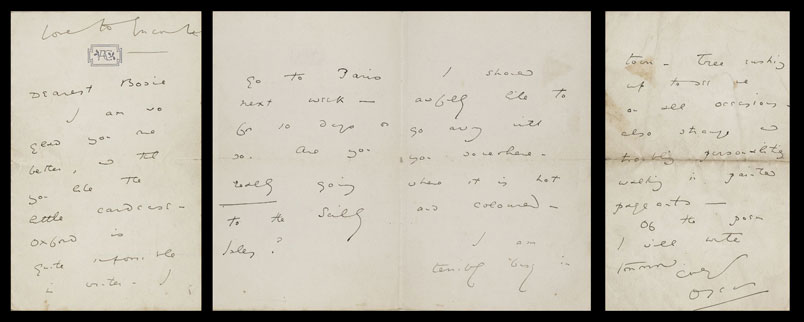 My Own Boy,
Your sonnet is quite lovely, and it is a marvel that those red rose-leaf lips of yours should be made no less for the madness of music and song than for the madness of kissing. Your slim gilt soul walks between passion and poetry. I know Hyacinthus, whom Apollo loved so madly, was you in Greek days.
Why are you alone in London, and when do you go to Salisbury? Do go there to cool your hands in the grey twilight of Gothic things, and come here whenever you like. It is a lovely place and lacks only you; but go to Salisbury first.
Always, with undying love, yours,
Oscar
Mozart to his wife Constanze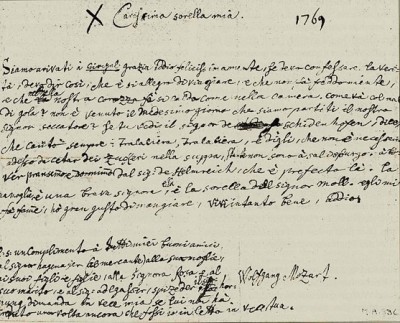 By 1772 he had composed 25 symphonies and two string quartets. He was appointed honorary concert master to the court in Salzburg in 1774, and after more tours–to Italy, Manneheim, and Paris–and a spell as court organist in Salzburg (1778-80), he moved to Vienna in 1781. Mozart wrote most of his best work in the years that followed: 12 piano concertos (1784-86); six quartets; and the operas The Marriage of Figaro (1786), Don Giovanni (1787), and Cosi Fan Tutte (1790). In 1791, the year of the Requiem and The Magic Flute, he died of heart failure, at age 35.
PS.–while I was writing the last page, tear after tear fell on the paper. But I must cheer up — catch! — An astonishing number of kisses are flying about — The deuce!– I see a whole crowd of them! Ha! Ha!…I have just caught three– They are delicious!– You can still answer this letter, but you must address your reply to Linz, Poste Restante– That is the safest course. As I do not yet know for certain whether I shall go to Regensburg, I can't tell you anything definite. Just write on the cover that the letter is to be kept until called for.
Adieu–Dearest, most beloved little wife– Take care of your health– and don't think of walking into town. Do write and tell me how you like our new quarters– Adieu. I kiss you millions of times.
Ronald Reagan to his Wife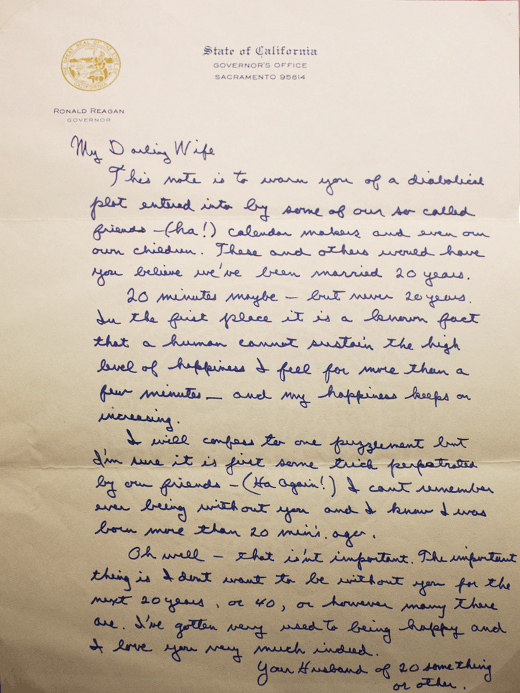 My Darling Wife
This note is to warn you of a diabolical plot entered into by some of our so called friends — (ha!) calendar makers and even our own children. These and others would have you believe we've been married 20 years.
20 minutes maybe — but never 20 years. In the first place it is a known fact that a human cannot sustain the high level of happiness I feel for more than a few minutes — and my happiness keeps increasing.
I will confess to one puzzlement but I'm sure it is just some trick perpetrated by our friends — (Ha again!) I can't remember ever being without you and I know I was born more than 20 mins ago.
Oh well — that isn't important. The important thing is I don't want to be without you for the next 20 years, or 40, or however many there are. I've gotten very used to being happy and I love you very much indeed.
Your Husband of 20 something or other.
Remember, writing down your feelings toward a loved one doesn't have to be a long letter sent via a postal service, it could be a cute note waiting for your partner in their lunch box or a message waiting in the condensation of a glass surface in the bathroom. A great opportunity to write to your loved one is in a gift card, creating a more personal exchange on a Birthday, for Valentines Day or for Christmas.
If you have a favourite handwritten love letter, we'd love you to share it in the comments below.
Read more about...
Pen News, Updates and Info